My Dad is positioned in the centre of this photograph. You wil observe that a photograph of my late Mum can be seen in the background.
It was my father's Dad, Bastianpillai Paul Nicholas between the years of 1918 -1920, who commenced his first monetary business providing financial services in Ipoh, Perak.Malaya.

Due to the date references he is recognised as one of the first Asian bankers in the history of British Colonial Malaya. Please read more here :Press Link-

The photograph is of David John Lamb with his wife Joyce Lamb née Amirdaratnam.

Saida is pictured in the foreground. She worked on a voluntary basis, as a 'tentmaker' alongside David Lamb as a co-evangelist at St. Mark's Church, Kennington. One needs to hear Anton & Saida's wedding video much lower down, entitled, Jesus showed a vision of our marriage.

It was extraordinary what the Vicar Canon Nicholas Rivett- Carnac testified about Saida. It is worth watching and hearing the testimony about how Saida sacrificed her career.

Slide the video forward to 10 minutes and 17 seconds. The bridegroom nearly fell off his chair after hearing the Vicar's testimony!

We now think the Lambs are linked with Ashford Christian Fellowship in Kent.




Saida now seriously ponders when she was involved with this aspect of evangelism why she was so subservient to all these individuals?

For she had this concept that the only way she was going to be accepted and befriended by most of the local Christians was to highly esteem them. Thereby receiving in a reverential manner every counsel and advice given to her which formulated into total appeasement.




Saida testifies that this period was one of the darkest moments of her life.

She sometimes wishes that she had never met some of these individuals. Saida has now recognised that Our Lord should have been her main focus and her only foundation.

Saida collapsing in anguishing pain. A very powerful story. Do follow this link for it's revelatory in nature.

Saida, we are proclaiming these verses with zeal. May the manifestation be fulfilled with joy by proclaiming these verses

Proverbs 6:31 Someone who has stolen, shall repay sevenfold and hand over all the substance of his house and Joel Chapter 2
25) The LORD says, "I will give you back what you lost to the swarming locusts, the hopping locusts,
the stripping locusts, and the cutting locusts.

26) Once again you will have all the food you want,
and you will praise the LORD your God,
who does these miracles for you.
Never again will my people be disgraced".

Incredibly the breakthrough regarding her severely damaged self worth, that led to her confidence being shattered, came only after Anton received a precious healing word from our Lord that delivered Saida of agonizing, unmitigating physical pain.

This link might surprise you - For exaltation and honour has come upon our fully restored Saida. She did become a Nursing Sister, and completed a course at King's College, University of London. Also attended another course at The City University, London.

We see the need to seriously pray for the protection of our Lord on our lives. Psalm 91 and Ephesians 6 v10 -20 are read daily to combat all forms of adversaries, dangers, sicknesses, diseases etc. We reverse and boomerang back in its entire package every demonic curse/group pronouncements/ utterances back to the place of origination. Thank you Jesus.

As an addendum Joyce Lamb's brother, Edward Amirdaratnam, was my best man at our wedding. He is married to Jane.


The photograph is of Danny John McGill.

There was a very short period (February 1986 till mid June 1986), a few years after our marriage, when Danny offered us accommodation in his home in Loughborough Road, Brixton.

Needless to say we paid the utility bills and all the other relevant expenses. As a young Christian, he used to come to our first home in Prima Road, which is located near the world famous cricket ground, The Oval. He usually arrived at our home un-announced and we always offered him friendship and ministry in the Word, for he was nurturing himself in the Christian Faith. Saida always rounded up the evening by feeding him the best finely cooked Basmati rice and a delicious curry. He thoroughly enjoyed the fellowship. We also ministered spiritually to Danny's family.

On one occasion Alan Meyer stayed with Danny as part of a community. It was Alan's late dear precious wife Pippa who led the Praise and Worship for us when Anton led the prayer meetings at St. Marks, Kennington. The worship brought tremendous joy to our Lord. God The Holy Spirit manifested His Presence during the prayer meeting. Read a further story regarding what happened during Pippa Meyer's last few hours before she went to be with our Lord.

It was during this time we also became acquainted with Gerry Kearney from the Republic of Ireland. We used to worship and shared bread, (Holy Communion) together at a charismatic church in North London.

We also want to acknowledge the assistance of Steven Burton in helping us transport our belongings from Loughborough Road, Brixton to Peckham. Mary, whom we also knew, married Steve Burton. Steve and Danny ran a joint business partnership together during this period, 1986. (Steve in carpentry and Danny in bricklaying etc.)

Both the Lambs and Danny now live in the county of Kent.

It was also during this period of time that we took care of Jonathan Gwilt when he stayed in our basement. He was completing his Chartered Accountancy Exams. He left our premises just before our daughter was born.
A qualified Chartered Accountant whom we believe might be employed by Kensington Temple.

It is so strange that years later our Daughter in Law Gloria, whist staying with us, also completed her Chartered Accountancy Exams.
Profile of Benedict Ponniah : my grandfather's nephew.
Did Malaya miss out on an elite Malaysian becoming Secretary General of the United Nations?

After his graduation from St. John's College, Cambridge with a Triple First, he was invited for dinner at 10 Downing Street by Mr. Stanley Baldwin the then Prime Minister of England.

The thinker who influenced Mr Baldwin the most was Sir Henry Maine, who wrote the Ancient Law. Maine's idea was that societies were being replaced from hierarchy and command to freedom and consent. This greatly influenced Mr Baldwin. Mr Benedict Ponniah was an up and coming aspiring Asian leader.

Our daughter Jannine commencing October 2011, will be the President to The Winfield Society(2011-2012) ( Equivalent to the St. John's College, University of Cambridge, Law Society.) One of the many functions she has to do will include giving the Winfield Dinner address when all the highly placed legal luminaries will be invited to St John's College Formal Hall. This will include Judges from the High Court, The Supreme Court, Queen's Counsel's, top Solicitors, Magistrates and anyone else formulating Legal law in the United Kingdom. A special invite will be rendered to those who graduated from St Johns and who are well recognised legal celebrities now.
Profile of BP Nicholas : Our Grandad---One of the first Asian bankers in the history of British Colonial Malaya. An all consumingly passionate entrepreneur driven by a strategic vision, who single - handedly brought an idea to pass, overcoming obdurate hurdles and colonial prepotency.
Visit Anton's Daily Readings , these Daily Readings are timeless. They are construed and formulated from every day living. They are applicable in every year-- to get a glimpse of how closely involved God the Father is in our lives.

Do read the prophetic word Anton received for 2021.
Our son Paul received his MA from Cambridge, March 2009, and his MSc from Imperial College, London. He obtained all the Institute of Actuaries (England) exemptions available as part of the MSc course.

He was also awarded a distinction (a first) for his MSc. His graduation ceremony for his MSc took place in the Royal Albert Hall, May 2009.

On 17th July 2009 Paul conveyed the thrilling news to us that he had passed his final Actuarial Paper. On 24th July 2009 his name was published in the London Times, page 68 stating he is now a Fellow of the Institute of Actuaries.
Our daughter Jannine received an official letter from St. John's College, Cambridge in January 2009 stating that they were delighted to be able to offer her a conditional place to read for a BA Honours degree in Law commencing October 2009.The conditions were exacting.She needed to get a minimum mark of 90% for her A level subjects.
Profile of Valerie Meilton.

On Friday, 16th January 1999, we were in Valerie's house in Claygate, Surrey. At 11-15 pm we were about to leave for London, we went to say goodnight to Valerie's Mum Vera Meilton. It was during this momentous moment she looked directly at us and told us in a rather sweet indirect fashion, "Please take care of my only daughter". She was clearly unwell, the final words she uttered to us were, "All you need is Jesus." We than prayed and anointed Vera with Holy oil and dedicated her to the sweet Presence of Jesus. 6 days later she died peacefully at Kingston General Hospital, with Valerie holding her hands.

The final words of Valerie's Mum to us echo so closely to the wonderful quotation of Oswald Chambers: "They feared as they entered the cloud." Is there anyone, "save Jesus only" in your cloud? If so, it will get darker; you must get into the place where there is "no one save Jesus only"

Valerie's father passed away on 6th May 1991. Valerie has now become a member of our family. We took heed to Mum's mandate.
London Premier Christian Radio plays a request for Paul's birthday. From September 2005 - We are very grateful to Jesus.
Testimonies: Read the comments of various individuals from different parts of the world!
Dad's birthday video:

Watch the joyous video of our dear Dad/grandad celebrating his 90th birthday with his family, relatives and close friends in Malaysia, live music included to serenade the gathering, surrounded by fans producing cool steam
Capture what happened in order to overcome! Read what delivered Valerie our adopted family member of all her painful nasty lumps.
It's been reported the book, Every Day with Jesus, is reaching 500,000 people in 150 countries. Praise the Living God. The writer of this Daily Devotion is Rev: Selwyn Hughes, Life President, Crusade for World Revival. Press here to read Selwyn's interesting personal comments on one of my daily readings On Monday 9th January 2006 Selwyn's Residence permanently moved to Glorious Heaven. Farewell for now, Our Dear Friend, until we meet again.
In our prayers we will continue to remember the people in Whitehaven - West Cumbria, The Lake District.

In 1973 the Lake District was the first place I visited in the United Kingdom, outside Greater London. The scenic mountain views gave me great pleasure.
Sunday 23rd May 2010 will be the final official service, (All Saints Church, Peckham) for Rev. Frog (Francis), Amy Orr Ewing and their three children. We wish Frog and his family farewell and every blessing in their new ministry in Beaconsfield, Buckinghamshire.

Frog and Amy Orr-Ewing presently lead Latimer Minster near Gerrards Cross in Buckinghamshire.

Prior to the Orr Ewings coming the Reverend Bob Hurley was the Priest in Charge, supported by his wife, Jane. If you are keen to read the faithful works of Bob and Jane Hurley at All Saints then do purchase a book called: 'Living Outside The Box' (A Peckham Parable).

INTRODUCTION OF NEW VICAR. ( 2011.)

The Vicar for All Saints Church, Peckham is The Reverend Jonathan Mortimer. He is married to Ruthli and they have two children.

We attended the Institution and the Induction of the Reverend Jonathan Mortimer on 7th July 2011. We were impressed by the sermon delivered by the current Bishop of Southwark, The Right Reverend Christopher Chessun.

So refreshing to note that the current Bishop of Southwark believed in the words of Matthew 10 verses 5 -15, even citing a true to life example that he was invited to come to King's College Hospital on this induction day to pray for an individual who was seriously injured in a car accident and who had died twice. He also quoted an example of his very own dear identical twin brother being ministered to by a healing team. Three cheers to the Bishop.

Incidentally do Press the LINK here to read Anton's response to the sermon preached by the Rt. Honourable Dr. Richard Chartres, the current Bishop of London at the Royal wedding. Brethren our prayers were answered. The Bishop's opening words were: "Be who God meant you to be and you will set the world on fire."
Anton made contact with a long lost friend, can you ever guess who he shook hands with and spoke to personally? Find the answer here
Our honeymoon was a very generous wedding gift from these kind people, the Rev. Michael Barling and the late Helen Clarke. When we knew Michael he was then the acting Vicar at St Marks Church, Kennington whilst Nicholas was on his sabbatical leave. Michael was also the former Principal of School of Ministry at Kingdom Faith, Horsham which is linked to Kingdom Faith Ministries led by Senior Pastor Colin Urquhart.

(January 2014- I just happened to hear Rick Easter making this very encouraging and exciting comment.He mentioned that Reverend Colin Urquhart will be broadcasting "Faith for Today" on London Christian Premier Radio (Medium Wave) on Tuesdays at 1:05 pm. Please do listen to this programme for it is always faith building. The format takes the shape of Julia Fisher interviewing the Reverend Colin Urquhart and it is very inspirational!
Please do continue to pray for Rick Easter. He is going through some challenges regarding his health. He is one of the very few DJ's who sometimes goes live on radio and prays at least 35 minutes for those who are suffering with various ailments. When I listen to these prayer requests it comes home to me how many people in the United Kingdom are in distress. Please pray the Anointing of the Holy Spirit will rest on Rick Easter.)

Both Michael and Helen booked us into a very beautiful large en suite bedroom at the Harte & Garte Hotel on the High Street at Windsor exactly facing Windsor Castle where occasionally the Royal Family resides. This hotel has individually designed bedrooms. It offers an unrivalled view over Windsor Castle. All our expenses were paid for by them. This thoughtful generous gift will always be treasured! We actually ate quite a lot of steak during this time. There was a restaurant somewhere within the hotel that specialised in steaks. We must confess that we have never eaten so much steak in all our life: past and current!!

Currently the Reverend Michael and June Barling are ministering in a church near Taunton. The Church is referred to as Kingdom Faith South West, Taunton, Somerset. If you are ever near this Church please do pay a visit!

Helen Smith Clark got promoted to Heaven on the 21st of September 2005. She was in her eighties. We did attend her funeral held on the 12th of October 2005 at a beautifully located village church, St. Mary's Church, Balcombe, West Sussex.

June Bailey and the Reverend Dr. Robert Ward rendered part of the testimonies (eulogies) during the funeral.

Press Link Here: Saida decided that the only way she was going to be accepted and befriended by most of the local Christians was to highly esteem them. Thereby receiving in a reverential manner every counsel and advice given to her.

She worked 5 nights in one stretch and sent the whole salary to this worthy, much deserved and recognized charitable Christian organisation. In hind sight Saida wishes now that someone had advised her to save part of this money and placed it as a deposit for an apartment. Oh, how she wishes that she could have even bought a small apartment and given this precious possession as a present on her wedding day to Anton. Saida feels that this present would have conveyed her deep gratitude to Anton. (The family's response is El Shaddai has compensated abundantly). The source of this deep gratitude comes from a release from severe pain.


Paul graduated with an Honours Degree in his Mathematics tripos from Christ's College, University of Cambridge, 1st July 2005. Paul is pictured with his parents, his sister Jannine and our adopted family member Valerie who is positioned on the extreme left. Our fresh breaking news in 2009 is that Paul will be receiving his MA from Cambridge, March 2009, and his MSc from Imperial College, London. He was also awarded a distinction (a first) for his MSc. His graduation ceremony, for his MSc, will take place in the Royal Albert Hall in May 2009. On 17th July 2009 Paul conveyed the thrilling news to us that he had passed his final A ctuarial Paper. Today 24th July 2009 his name was published in the London Times, page 68 stating he is now a Fellow of the Institute of Actuaries. Well done Paul! You can relax now and enjoy your profession as a fully qualified A ctuary.

The further breaking news is that our daughter Jannine has been given a conditional offer at St. John's College, Cambridge, to read for a BA Honours degree in Law commencing October 2009. One of the reasons she opted for this College was to follow in the footsteps of her grand Uncle Benedict Ponniah , who was rightly positioned to become the Secretary General of the United Nations. A Queens Scholar, in the same prime league as the renowned Seniors Mr & Mrs Lee Kuan Yew (the first Prime Minister of modern Singapore). The conditions are steep for Jannine , she needs to get a minimum mark of 90% for her A level subjects.

Do browse through and read what delivered Valerie Meilton of all her painful nasty lumps. For when she joined our family she was in harrowing despair.

On Friday, 16th January 1999, we were in Valerie's house in Claygate, Surrey. At 11-15 pm we were about to leave for London, we went to say goodnight to Valerie's Mum Vera Meilton . It was during this momentous moment she looked directly at us and told us in a rather sweet indirect fashion, "please take care of my only daughter". The final words she uttered to us were "All you need is Jesus." We than prayed and anointed Vera with Holy oil and dedicated her to the sweet Presence of Jesus. 6 days later she died peacefully at Kingston General Hospital, with Valerie holding her hands.
Prophecy 2021
Prophetic Word for 2021. Please prepare given the forthcoming events.

A precursor to the events that are definitely unfolding and how to prepare spiritually. Press Link:

Psalm 91 is a protective covering so read the verses passionately.
Repentance is mandatory.

Please do not miss the opportunity in case it passes you by.

Place your name within the Lamb's Book of Life.
Revelation Chapter 21:Verse 27b.
-------but only those [will be admitted] whose names have been written in the Lamb's Book of Life.

Updated 1st March 2020. Please urgently pray with deep groanings for Malaysia. We need a 'sudden' Heavenly political breakthrough.

Romans Chapter 8 verse 26: "In the same way the Spirit also comes to help us, weak as we are. For we do not know how we ought to pray; the Spirit Himself pleads with God for us in groans that words cannot express."


We prayed with wisdom for the General Election held on 12th December 2019 in the United Kingdom. The concept of wisdom is nuanced within the video.

God the Holy Spirit needs to manifest Himself mightily in the United Kingdom in 2020.

Finally our prayers and intercession for our nation will manifest.

On this 2020 Marriage Prophetic video below, where a father is directly speaking to his son, the essential truth on how to pray effectively with definite fruitful results will manifest themselves.

Paul Anton Imbaraj Nicholas is the first great grandson of B P Nicholas. Paul Nicholas has emulated the mantle of his great grandfather.




I have joined the Twitter Club and will now be tweeting @AntonNicholas1 Do joyfully follow and track my tweets and may you be blessed!

Tweets by @AntonNicholas1
31 December 2020
Our website received its millionth hit - 1,893,704 hits so far.

The millionth hit came from the country of Rwanda, derived from a random google keyword search for 'Selwyn Hughes biography'. The unknown individual caught our website. Ninth on the first google page. The webpage actually makes an interesting read!

There are 25 uploads on the ANTONNICHOLAS channel on YouTube. On 17th January 2021 this channel has been seen by 201,995 viewers.
Dad's birthday
In 1936 a Colonial Licence was obtained by the visionary B. P. Nicholas under the illustrious title of Bank of Malaya Ltd.

Please do view B. P. Nicholas's son Albert's 95th birthday party below. Albert Nicholas was one of the Directors and the Manager of Oriental Bank of Malaya Ltd-Klang.



Nearly 1000 people from around the world have connected with BP Nicholas on this Facebook page and shared it with their friends.
We are encouraging our readers to do likewise.


Lead Kindly Light.
The Hymn below radiates a Heavenly fragrance. A love song dispatched to Heaven! More than 141,000 viewers from all over the world have seen this moving video.
John Henry Newman, who was a young English Priest, wrote the Hymn Lead Kindly Light when he was afflicted with a serious illness. This occurred whilst staying in the island of Sicily which is situated near Italy. He was far from home and really believed he was facing death. In one extraordinary moment, which I refer to it as a touch from the Lord, The Blessed Cardinal Newman wrote this very moving hymn. It will definitely minister to all those who are facing loneliness, darkness and confusion.

Visitors from all over the world have seen this video. This will be an anointed final Hymn to sing in all churches when we finally depart, smartly dressed and in our coffins to be truly and warmly welcomed by our Beloved Saviour, Our Lord Jesus Christ of Nazareth into the glorious splendour of Heaven.

On Saturday 18th September 2010, we attended the much needed Prayer Vigil at Hyde Park, London. Between 8 pm and 8-30 pm, darkness had fallen and most of the 80,000 congregants assembled were on their knees, heads bowed in solemn prayer on the grass in Hyde Park. In devotion and reverence this Hymn was sung, "Lead Kindly Light".

Watch the video below and prayerfully observe how strong the impartation of the Holy Ghost is. Do check it out for moments of this nature are very rare.It comforts us to know that over 141,000 viewers of all nationalities have accepted our request to view this video.




From 2013 onwards we are lovingly encouraging Christians to do everything possible within their means to get involved in a Praise and Prayer meeting weekly where the Presence and the solemn manifestation of the Holy Ghost is active and real.

Please take heed before it's too late!!!!

Watch the video below to grasp the essence of Prayer and Intercession.

Remember The Acts of the Apostles.

After all these years I would never have thought that I would have a gracious personal visible appearance of Jesus, in July 1979, that drastically changed the course and pattern of our lives. I went into my own wilderness experience, moving into deep solitude and meditated constantly on Biblical verses until they metamorphosed into my being. I remember once sitting quietly alone in St James the Great Church, Peckham Rye, London, SE 15, England, on 3rd April 1993. My mind was distracted in wanting to follow my own ambition to pursue a successful banking and financial career. For after all this linkage was imbedded within my DNA.

Profile of BP Nicholas : Our Grandad---One of the first Asian bankers in the history of British Colonial Malaya.

I sensed the voice of Our Heavenly Father ministering and instructing me, "Why don't you, Anton, pursue my Son Jesus and pursue Him intensely?" I came back home and took every single banking text book I owned and every paraphernalia relating to my potential career, placing them neatly in a black garbage bag and I threw them away. From then henceforth my challenging spiritual journey commenced. Read what happened to me by pressing this link: What a wilderness experience!

"In love's service, the wounded soldier serves best" ― Thornton Wilder.

Prayer and intercession are urgent matters for our safety, security and stability.

Be encouraged----Inserted within the video there is God's answer for financial provision.



Acts 4 :13 Now when they saw the boldness of Peter & John, and perceived that they were uneducated and untrained men, they marvelled. And they realised that they had been with Jesus.


Acts 4:33 And with great power the apostles gave witness to the resurrection of the Lord Jesus. And great grace was upon them all.


How did two individuals from different continents with contrasting, rigid family backgrounds, join together in Holy Matrimony?
Anton was an orthodox, ultra-conservative, true blue Roman Catholic, a faithful early morning daily communicant. Since the age of 5 family prayer was a daily occurrence. Jesus had to appear personally in a three dimensional open vision for Anton to receive a Heavenly assurance to marry an evangelical Christian. Do view the video below to witness how the narrative in the vision came to fulfilment. Ever since then their lives took on an unexpected course. Hear and view the prophetic word proclaimed to Anton & Saida by the Rev. Father Michael Gwinnell and the late Rev. Canon Nicholas Rivett -Carnac, the former Vicar of St. Marks Church, Kennington.

Press HERE to read an incredible Testimony.

John chapter 17 verses 20- 21

"I am praying not only for these disciples but also for all who will ever believe in me through their message. 21) I pray that they will all be one, just as you and I are one—as you are in me, Father, and I am in you. And may they be in us so that the world will believe you sent me."


Prophetic vision shared in Malaysia. The Land of my birth.
Do implore with some powerful intercession for Malaysia. May our Lord Jesus Christ extend His mercy on us all!
Do watch this 2009 video of Anton speaking on YouTube showing exactly what was, in preparation, prophetically and strategically shared about The Holy Ghost at the gathering in Kuala Lumpur, Malaysia. View why he received their rapt attention. The first segment of the video is shown below.

A portion of the 2010 prophetic word is cited within the video. READ the whole prophecy here TO VIEW the remaining three segments please follow this link





View the video above to see why a reference is made to Rev:Jean Darnall. This was the lady who taught Anton a lot about the Holy Ghost. She passed away to Our Lord's Presence on Monday 14th January 2019.

She was a Pastoral Elder with Pastor Jack Hayford. Pastor Jack was the founding Pastor of The Church On The Way in Van Nuys, California.

Jean was one time an Associate Pastor at the world famous Angelus Temple originally founded by Aimee Semple McPherson. We did note that during July 2010 another lady, Rev Tammy Dunahoo was appointed General Supervisor of this Pentecostal Denomination.
The Year 2011
"On 28th August 2010, at 9-59 am, to be precise, there was a miraculous sign in the skies when a flock of geese gave an astounding, majestic, finely drilled and disciplined fly-past. Similar to an air show. A large portion of the gathered audience of 300,000 to 500,000 people witnessed this extraordinary performance at the Lincoln Memorial, located at the National Mall, Washington DC, on a warm sunny day. Referencing Prophecy 2011

Ephesians, Chapter 3 14-15 For this reason I kneel before the Father, from whom his whole family in heaven and on earth derives its name.

Our Prayer Foundation is based on this premise: to inter-link the following spiritual truths — a life of being totally aware of the sweet Presence of God the Holy Ghost, study the Word of God diligently and pray in the Holy Spirit, with a ministry of Proclaiming the Kingdom of God in all circumstances and opportunities to save the precious people.

From us, may come forth contemplata tradere : From our meditation, dwelling in the Presence of God " may we humbly pass on the fruits of meditation and contemplation" that one day, (Please Lord Jesus) we "speak only of Jesus or with Jesus".
The spoken Word of the Lord was forthright and resolute
In the year 1978, a Malaysian businessman told and convinced Anton's parents not to send him back to London, England to complete his finals. The businessman was going to meet an Assistant General Manager of a top bank in Malaysia to secure a permanent banking job for him. Anton also had no intention of returning back to London. On a Monday morning a few hours before he was going to meet the banking officer, the businessman tragically and shockingly collapsed, fell down and very sadly died. This event triggered Anton to respond to the Word of the Lord urgently and swiftly. The choice was very clear: either to pursue a glowing and a promising financial career in Malaysia, or to follow the way of the cross. Obedience (blessings) is far better than disobedience (curse): and following the cross is far better than being permanently placed in a coffin. It is a fearful thing to fall into the hands of the living God - Hebrews 10:31. He returned back to London without delay and the ministry of PRAYER was birthed. The next year, July 1979 whilst on a prayer pilgrimage in France, in a noted Prayer Centre, God the Holy Ghost visited Anton when he saw a vision of Jesus and Our Lord affirming His anointing on his life. He then attended a 'Life in the Spirit' seminar at Westminster Cathedral, London to learn how the Holy Spirit is renewing Christians all over the world.

On Sunday mornings we (our family's picture is at the bottom of this page) faithfully attended Church. We attended morning service today, 1st March 2009, customarily called St. David's Day. The Pastor spoke on the theme of spiritual warfare, from Ephesians Chapter 6 verses 10 -23. He shared that there are 400 times in the New Testament where The Christian life is somehow described as a battle. The local Church has become dangerous to the evil one, for two large movements started even among the very streets of South East London. One was called the Salvation Army, where Catherine Booth preached her first sermon outside on the common near St Marks Church, Kennington. Then with William Booth they commenced the largest explosion of Church growth English history has ever seen, and it impacted the whole world. Another Church organization called Ichtus and the associated March For Jesus started in the very streets of SE London. Notwithstanding, Spurgeon also commenced his preaching in SE London.
BBC Live Broadcast. It has been reported that over a million viewers watched the broadcast. Excellent Reviews. View a YouTube production below.
Imagine this: ( to appreciate why its so unbelievable read this ) the BBC television, came to do a "Live" national broadcast of the Sunday morning service at All Saint's Church, Peckham on Pentecost Sunday, 23 May 2010. We fellowshipped at All Saints for about 13 years. Follow the link to arouse your interest on how through a Divine intervention we got involved with this church. We have specifically kept a very low profile although we are faithful members.

This website is very active and visitors are viewing this space from various parts of the world. The precise statistics are at the very end of this page. Since its inauguration in August 2002, around 76,644 unique site visitors from all over the world have browsed and read our webpages. Page hits total to 724,342. Thanks be to God!

There was a particular street in Bermondsey, London I should not have walked after dark.In a moment of forgetfulness I did so. 13 to 14 young men surrounded me in a semi-circle.They gave me a nasty and vicious look. I could smell the hatred towards me. Filled with fear, my feet were glued to the ground. View what happened next?



The above figures are a pleasant surprise to me given the fact that I absolutely had no knowledge on how to operate a computer in 2002. For my competency on computers was approximately non-functional. I self taught with great help from our children.

There is a double bonus here in that the BBC also recorded two further programmes on two consecutive evenings for 'Songs of Praise.' Local Churches and charities were invited to reveal the life and soul of Peckham. All this happened in a church where a few years ago the bulldozers were coming in to demolish it!!

" There was a specific occasion on 23rd May 2010 when we sensed a sweet overflowing Presence of the Holy Spirit during the live national broadcast of the BBC service. Amazingly without any prompting or prearranged scenario, the highly trained and skilled BBC crew, comprising 5 cameras, caught me during this divinely arranged moment and I was so thankful that I managed to control my tears from pouring forth. View the You Tube production and see whether you can discern the moment on the video when the Presence of the Holy Ghost touched me."




Wedding Anniversary


The photograph above was taken on 23rd August 2008. To celebrate our 25th wedding anniversary we took our family to this grand Cameron Highlands Resort, 5000 feet above sea level, opposite a only spectacular 18 hole golf course, Tanah Rata, Pahang, Darul Makmur, Malaysia. We convey our thanks to my youngest brother Fintan for getting this memorable celebration so well orchestrated!
Church Life
The Nicholas family worshipped at All Saints Church, Peckham for 13 years.

From 20th July 2003 till the 23rd May 2010 the presiding Vicar was Rev. Frog Orr-Ewing. His wife Amy Orr-Ewing is also the Training Director of Zacharias Trust which is aligned to Ravi Zacharias International Ministries. Occasionally I do listen to his radio broadcast on UCB UK Christian Radio. Ravi is always encouraging and stimulating. The programme is transmitted on UCB radio,Monday- Friday.

Anton at this moment is very involved with some on going projects. Do read a part of a very recent interesting e-mail-2009, from Marigold Rivett Carnac the wife of my previous Vicar.

Saida and Anton served, worshipped and led a Discipleship Group at St. Marks Church, Kennington, London, for many years, from the early 1980's till the beginning of the 1990's. For some time Anton led an early morning prayer meeting at St. Marks Chambers.

During this period the Vicar was Nicholas Rivett- Carnac. Not many people in St. Marks were aware of his family history. His father ended his naval career as a Vice-Admiral and was involved in both World Wars, 1 and 2. He commanded the battleship Rodney and was Rear-Admiral in charge of the Normandy Beaches during the Allied invasion of Europe in 1944. At the Memorial and Thanksgiving service for Nicholas Rivett-Carnac held at St. Marks Church on 23rd of October 2004 we heard Bishop Peter Walker, a former Principal of Westcott House Theological College Cambridge, saying in his testimonial that the wife of the Rear Admiral told the Bishop that if her husband had just made one mistake, it would have changed the whole direction of the war. What an awesome responsibility!

Nicholas Rivett-Carnac joined the Scots Guards. He spent 10 years with the regiment, serving as a platoon commander during the fierce fighting in Malaya, when he was mentioned in dispatches. He returned home in time to take part in the Coronation Procession in 1953. This clan of the Rivett- Carnacs were either Military men or Vicars. It's just an interesting note that Nicholas Rivett Carnac served in both capacities.

View the plaque placed on the wall of St. Marks Church, Kennington in memory of the late Reverend Nicholas Rivett Carnac. This dedication service took place on June 30th 2007.
Early Life
It was in 1980 in St. Mark's Church, Kennington, London Saida co worked as an Evangelist when the late Canon Sir Nicholas Rivett-Carnac, was the Vicar of St. Mark's Church, ( Vicar from 1972-1989). She was the first individual from the congregation, of over 600, who accepted the calling to do "tent making". A pioneer within St. Marks, she sacrificed her financial pursuits in order to have the free time available to tell the local people about Jesus. During the initial days of our courtship, Saida was often apologetic by telling me that she had got no material wealth to share with me, except the gifting of an Evangelist. I need to state in here the words of 1 Cor.15 verse 58: Be steadfast - in the work of the Lord, knowing that your labour is not in vain - although I must add quickly that her recognised gifting was publicly spoken of and declared from the pulpit on the day of our marriage where more than 400 people were invited to attend our wedding and feast at our reception.




The photograph below was taken before Saida left, Kampala, Uganda. Having completed part of her education at The Aga Khan School located on Makerere Road, Old Kampala.


This was a place of familiarity compared to the United Kingdom especially as she travelled unaccompanied on the flight to Gatwick Airport. As you can see, at this stage she was oozing with tremendous self confidence and assurance. These positive aspects were severely shaken during her time at a much sought after top Grammar School in North London. For she had to confront an issue that came out unexpectedly that caused many reverberations. If you are curious do check out how the issue manifested itself. Thereafter through unwise counselling her confidence was severely shaken in London.

Saida was once a model but we hear someone saying that this modelling phenomenon is a lark - well check it out!

Do watch a snippet of a very popular TV programme of Saida at work viewed by a significant global audience shown at peak time onBBC 1. A picture of Saida (radiantly joyful) and the family are at the very bottom of this home page

The problem was that Saida had a surplus, an overflow of spiritual mothers, spiritual fathers, counselors, advisors, mentors and during our courtship loads of engagement and marriage counselors etc, etc, etc. She lost her own father when he died at a very young age, (42 years) and Saida was only sixteen months old. Saida, in hindsight now, after raising up two Godly children and spiritually matured after going through the prayer foundation just wishes that during our courtship she went down on her knees and spent hours seeking the face of Our Lord herself, in order for her to recognize the voice of Our Good Shepherd. The lessons behind this are, if one does not spend hours praying, an individual would not be able to recognize the authentic voice of God. The flip side to this, devoid of prayer, one begins to move into the realm of confusion, distortion, the enemy moves in, in various disguises and without discerning it, one will be pulled into the realm of counseling fodder. If only the counsellors had fulfilled this verse, it would have saved Saida a lot of heartache, much grief, torment of soul and intense pain: Acts 6 v 4: '...and will give our attention to prayer and the ministry of the word. v5: This proposal pleased the whole group.' Fellowshipping with Jesus in the Word and in Prayer.

For its through continuously acknowledging the Presence Of The HOLY GHOST, constant and consistent prayer, saturating, soaking the Word of God that will manifest sound and wise counseling.

Anton also led a well-attended early morning prayer meeting for about two years in the upstairs chambers at St. Marks Church Kennington, London, with an emphasis on united prayer visit: Listen to one here


Behold, how good and how pleasant it is for brothers to dwell together in unity… for there the Lord commanded the blessing – life evermore! The format was the Lord's Prayer.
Malaysia 2008 & 2009


During our last visit to Malaysia, 2009, we stopped to have high tea at the Carcosa Seri Negara Hotel, located near the beautiful Lake Gardens in Kuala Lumpur. We chose to have an English afternoon tea when someone told us that the British Monarch, Queen Elizabeth II and the Prince Consort, Prince Philip, Duke of Edinburgh stayed in this grand hotel. The first to live in this seven-bedroom/nine-bathroom mansion was British Resident-General Sir Frank Swettenham in 1896. We also celebrated part of Paul's birthday there.

During July/August 2008 we were in Malaysia celebrating our 25th wedding anniversary. The most precious week occurred during our time on the mountain top in Cameron Highlands, Pahang, around 5000 feet above sea level. When we came back "to earth" arriving in Kuala Lumpur from this resort we attended a church in Petaling Jaya and to hear what happened please press the link below: Before becoming a Pastor, Rev Roy Muttiah actually worked as a Barrister. His late brother Allen Muttiah was also a Barrister and resided in the lovely Island of Penang.

Place your mouse below and click to hear the very apt prophecy given by Pastor Roy Muttiah to each member of the Nicholas family, 24th August 2008 in Cornerstone Glory Church, Petaling Jaya, Selangor, Malaysia.



Our sincere apologies about the picture and voice quality, referencing the You Tube below.
To view how the interior of the Church looks then do view the video response below. We pray that you will just hear and meditate on the major points of the testimony: the process and the Godly instructions we received on how to purchase a property. Even to just hear Joy Muttiah, the youngest daughter to Pastor Roy, play an anointed piece of music on the piano is something which will deeply touch you. To listen to the fragrant music, you need to view below:



Pastor Roy is the brother in law to the late Dr. Joy Seevaratnam of Penang, Malaysia.(Dr.Joy passed away into the Lord's Presence on 7th January 2014) In 1985 Dr. Joy and his wife Elsie prophesied to us as a family and every word of the prophecy has come to pass. Although he was a medical Doctor he operated more in signs and wonders and he offered his patients the option to be prayed for. Given the fact that in Malaysia a patient pays for his prescription from his own income,for the economically deprived this can be quite expensive. Through signs and wonders Dr Joy healed and delivered many through the Name of Jesus and this was indeed a free service.

This link indicates that Dr. Joy's prophetic word has rubbed on us:It's such a joy to know that we have received countless hits regarding this LINK:---

During our trip to Malaysia (2008) we also enjoyed great fellowship with Pastor Reuben Seevaratnam,Global Harvest Assembly - Penang,Malaysia and Pastor Raymond Yeo of Kingdom Christian Fellowship, Subang Jaya, Selangor. May all your harvest mature in Christ Jesus.
We want to acknowledge our Lord's blessings on this website. It was blessed and inaugurated officially on 1 August 2002.
Flag Counter
The counter below was introduced for the first time on 8th January 2014. Sadly the firm who installed my previous beautiful counter many years ago,and filled it with exciting statistics,suddenly went out of business.As a result we lost all our treasured statistics.

We like national flags portraying on our website so we are re-introducing the flag counter freshly again through another firm.It is so exciting to see visitors coming from the far corners of the earth!! Commencing 8th January 2014 .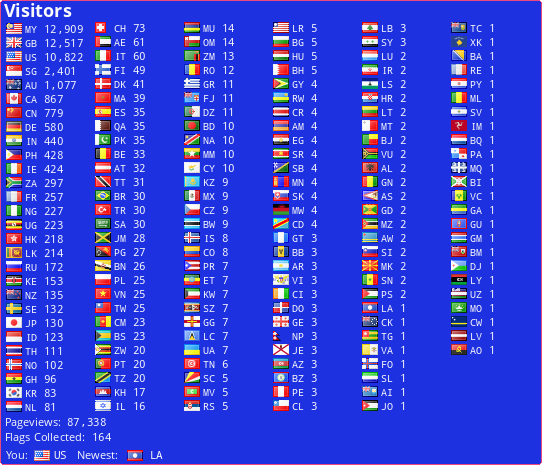 From the 6th - 10th August 2011 there were some very serious riots in certain regions of England. Parts of London took a severe pounding. Through these ugly and violent scenes some incredible heroes emerged. One of them is a British Muslim, Mr Tariq Jahan. Read his stirring words that brought calmness to the horrendous situation and stopped emerging communal violence in its tracks especially in Birmingham. PRESS LINK:

Do check this out. Anton had a mesmerising fascination with a particular graveyard.
'The graveyard draws the living still, But never anymore the dead.' Words from the poet Robert Frost.'
We need to plant here without any optional caveats the challenging words of A. W. Tozer, "It is doubtful that God can use anyone greatly until He has hurt him deeply".

Or to paraphrase the famous words of Pastor Charles R. Swindoll, "Before God can use a man He has got to crush him."
Psalm 51
17) My sacrifice [the sacrifice acceptable] to God is a broken spirit; a broken and a contrite heart [broken down with sorrow for sin and humbly and thoroughly penitent], such, O God, You will not despise.
So do browse through and
read
what the Nicholas family had to persevere through. It will make a fascinating read.
Please read the profiles of my Grandfather B.P. Nicholas : the first and only ethnic Ceylonese ever to hold a Banking License in Malaysia - Wikipedia cites in it's column that B. P. Nicholas was the first Asian banker in the history of British colonial Malaya.

Read also of my distant uncle, (a nephew to my Grandfather) Benedict Ponniah - who was en route to becoming the Secretary General of the United Nations




Read this self explanatory e-mail I received from my former classmate in Malaysia:
From Chacko Paul, 24th December 2007
"It took me a few days to digest the deluge of information of you and family- hence the delay! And to think that you did not even have your own email- now with own website to boot!"
I love the genesis of Pentecost for I love the Holy Ghost.

If you are keen to know the awesome authentic Power of Pentecost then follow these links:

How the Holy Spirit came to our rescue.

Pray the Holy Spirit will protect you from people with evil intentions.

There was a man who was unable to cope with his grief and with a large frown stood to his feet, right in the midst of an on-going memorial service in front of the grieving audience and shouted "Then where was your God when this happened?"

READ MORE HERE
For over 13 years, her Dad (our family's picture is at the bottom of this page) faithfully prayed and spoke the Word of our Lord aloud (the verses of the bible) every day, together with our daughter Jannine.


Dad coached her on how to articulate the biblical verses, oozing and speaking them, percolated with the sweet fragrance of the Holy Spirit.



Before Jannine left for Cambridge one of the Books of the Bible she read aloud daily with me was the book of Proverbs, a book full of wisdom. We must have covered the book at least 60 times.

The wise words of Dr. Howard G. Hendricks.
a) You cannot impart what you do not possess.
b) If your Christianity does not work at home, then it does not work at all: don't bother to export it!!

Press the play (arrow on the left) button below.


On August 28th 2005 was the 10th anniversary of our dear Mum being transferred to Heaven which was celebrated by placing a tribute that covered half a page in the New Sunday Times in Malaysia, which has a readership of more than 500,000 people.

We are pleased to note that through this Tribute there were more than 50 hits on the tape section from people who listened to the tape dedicated to my Mum. (May Our Lord's Name be Blessed). We pray that the words on the Tribute encouraged and ministered to many people in Malaysia and Singapore.

Read the full version of the Tribute

A very current circumstance
We better be aware, dear folks that Modern Day slavery is happening in your home town even right now!